Skydive Spaceland is proud to offer a university/college club program! We offer discounted skydiving rates to members of college clubs that have decided to call Spaceland home. After all, who needs a deal more than a broke college student? 🙂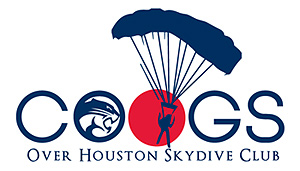 Currently affiliated club: Coogs over Houston (University of Houston)
What do these clubs get for affiliating with us? Here's the list:
Discounted jump rates (for club members with valid student IDs and club membership cards)

First jump (tandem): $40 off per person
$179 weekends, $159 weekdays (reg. $219/$199). Prepayment required.
Second jump (tandem): $30 off per person
$149 any day (reg. $179). Prepayment required.
Skydiver Training Program (STP, solo) jumps with single instructor: $20 off
$130 each (reg. $150)
Experienced jumper lift tickets (with own gear): $2 off to 13,000 feet
$23 to 13,000 (reg. $25)
Hop and pops: $14
Gear rental: $25/jump plus tax

High-capacity facility: We can handle up to 300 tandems per day with advance notice, and we have several STP instructors on staff to handle a high volume of training skydives.
State-of-the-art equipment: We have almost all brand-new equipment as of April 2011. We use Sigma tandem systems and we have 36 Mirage/Javelin rental rigs (for student/experienced jumpers) with Sabre 2 and Navigator canopies.
Covered front porch space where your group can hang out, grill out, and watch landings
Convenient to downtown Houston (only 20 minutes south of downtown off Hwy. 288)
Bunkhouse/showerhouse for overnight stays at a rate of $15/night
Promotional materials help: Let us know if we can help with flyers and/or advertisements.
Promotion of your club on SkydiveSpaceland.com
Are you interested in starting a university skydiving club? Awesome! Please contact us to arrange a visit to check out our facility and get together for a chat. Call marketing director Christy West at 281-369-3337 or email her.
We'd also suggest taking a moment to talk to our current clubs'  officers, as they can help you dot the Is and cross the Ts with your school to get the club started and recognized. Here are a few additional resources for you: