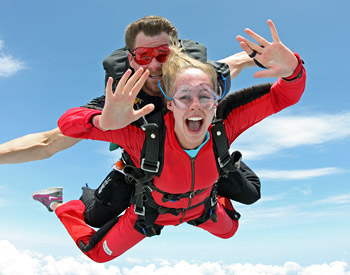 Established in 2000 by the Boyd family, Skydive Spaceland-Houston is a three-generation family drop zone/skydiving training center specializing in innovative, constantly refined skydiving education just south of Houston, Texas. Built from the ground up exclusively for parachuting on a 130-acre private airfield, our skydiving center hosts around 100,000 skydives annually and has hosted several state and national freefall skydiving records in addition to the U.S. National Skydiving Championships (2009).
Your First Freefall Skydive
If you are looking to skydive for the first time (tandem skydiving) in Houston, bring it on over here! Our facility and staff stand ready to give you the freefalling time of your life whether you're looking to fly by yourself, bring a couple of friends, or throw down a big skydiving party or corporate retreat/team-building event. Our aircraft will allow up to 11 tandem skydivers to jump from the same flight, and we have a tasty cafe ready for your skydiving appetite once you land. We are open every day but Christmas, from 8 am to 6 pm on weekdays and 7:30 am to sunset or later on weekends.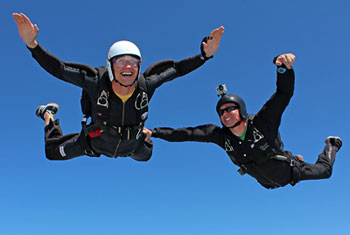 Skydiving Training
Skydive Spaceland-Houston serves Texas and Louisiana parachutists in the Houston/Galveston, College Station, Beaumont, Port Arthur, and Lake Charles areas. However, we also routinely host skydivers from around the world. One of the reasons jumpers come here for freefall and parachute training is because we are a high-volume, busy drop zone that's open 7 days a week, allowing our customers to get their basic skydiving A license in as little as a week. Another is that our program is, quite simply, one of the biggest and the best. Last year, Skydive Spaceland-Houston graduated more than twice as many skydivers to their basic (A) license than any other skydiving school in the United States. We've had friends visit us from as far away as Germany and Australia solely to learn to skydive with us.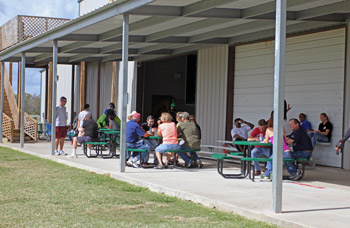 Spectators Welcome
Spectators are always welcome at Skydive Spaceland as well! It is free to park here and watch skydivers day in, day out if you like. Our comfortable, covered back porch and second-floor observation deck provide great views of all the action. And don't forget our full-service Pro Shop, which provides everything from skydiving souvenirs to complete sets of custom gear.
World-Class Talent
In addition to highly skilled full-time skydiving instructors, Spaceland-Houston is also home to professional and amateur skydiving teams, and is always well-represented at the U.S. National Skydiving Championships each year. These and many other highly active skydivers provide an environment where skydivers from first-timers to thousand-jump veterans can continually push themselves to achieve greater skydiving goals. From formation skydiving to freeflying, wingsuiting, angle flying, canopy piloting, and about any other skydiving discipline you can think of, we have you covered here at one of the world's largest skydiving centers!
Learn More About Spaceland
Facilities
From our bunkhouse/showerhouse to our huge air-conditioned packing area, we have amenities other drop zones only dream of! Check them out in this slideshow.
[flagallery album=3 name=Facilities/Aircraft]