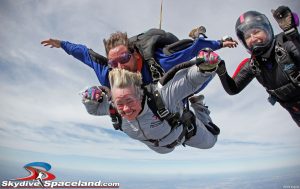 (Rosharon, Texas, Jan. 6, 2014)–Not every business does team-building activities, and those that do don't often plan something as intense as skydiving. You certainly wouldn't expect it out of a government office, but Houston Mayor Annise Parker brought no fewer than 20 employees, City Council aides, and others to skydive and bond at Skydive Spaceland on Sunday, Jan. 4, 2015.
"We don't normally do events as extreme as this, but we've done charity runs, bowling, and such to get some time and recreation together," said Janice Evans, Parker's Chief Policy Officer and Director of Communications. "But yesterday we even got the mayor up there (to jump)! She kept seeing all of us come down throughout the day, everyone had fun, no one was sick or complaining, and she started thinking, 'Why is everyone so happy and excited, what's this all about?' And of course the guys (instructors) worked on her throughout the day."
"Honestly, this wasn't on my bucket list," said Mayor Parker.  "My staff had been planning this for awhile and my original intention was to simply be on hand to support them.  As their team leader, though, I couldn't just stand by and watch.  If they can do it, I can do it.  I'm not sure, however, it is something I'll do again."
The group did tandem skydives harnessed to experienced instructors from about 14,000 feet (2.6 miles high), freefalling at 120 mph until about 6,000 feet. Parker, who jumped with experienced instructor Henry Prewitt and videographer Daniel Angulo, also had a freefall visit with literal hand-holding from Helaine Rumaner, a city employee and competitive skydiver who has done more than 2700 jumps. Experienced skydiver Chad Hall also flew with the group for an additional video perspective.
"She did a great job," said Prewitt. "They all did a great job and had a lot of fun."
William Paul Thomas, liaison to the City Council, had the idea to try skydiving as a team-building activity several months ago. Despite two date changes over seven months, most of the participants remained excited to jump and 20 of the original 30 participants jumped on Sunday. Two even jumped twice that day, and several more purchased a same-day special for a later repeat jump. The staffers covered the jump costs (and those of their other team-building events) out of their own pockets.
"It was awesome; that's all I've been saying, that it was awesome, said Evans. "I was up all Saturday night thinking we were crazy, but it was great."