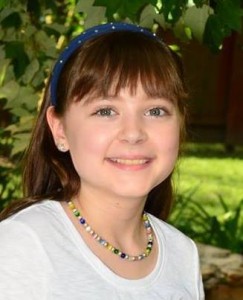 Rosharon, Texas (June 16, 2014)—On August 23, 2010, Chad and Melissa Barrett had to hear some of the worst news a parent can ever hear—that his 8-year-old daughter Kristina had cancer. And not just any cancer, but a rare, painful form called clear cell sarcoma that had already spread to her lungs.
Despite a poor prognosis, surgery, five rounds of chemotherapy, and multiple clinical trials have given her nearly four additional years of life with her family. Now, however, the cancer has returned and Kristina is in home hospice care with her family.
Through some of the roughest hell a parent can endure, Barrett, Director of the Greater Houston branch of Child Evangelism Fellowship, has managed to maintain a positive outlook of hope for Kristina through his faith in God. One of the ways he supports his faith is by tandem skydiving, drawing parallels between his faith in his skydiving instructor and his God.
"When I skydive, I'm depending on a pro to handle the parachute," he explains. "Donny has my back when I'm jumping, and Jesus has my back in life."
Barrett has brought friends and fellow worshipers to skydive at Skydive Spaceland, just south of Houston in Rosharon, in the past. When Spaceland's owner Steve Boyd found out that Barrett's next planned group skydive had been postponed due to Kristina's condition, he found a way for skydivers to pitch in and help Barrett with the expenses of Kristina's health care.
"We have to help each other in times like this," Boyd says. "There's nothing worse than for something like this to happen to your child."
On July 12, the rescheduled day for Barrett's group skydive, Skydive Spaceland will donate $50 for each first-time tandem skydiver jumping that day whether they're part of Barrett's group or not. With the potential to handle hundreds of first-time jumpers every day, Spaceland is hoping to raise $10,000 or more to support Kristina and her family.
"If you've ever wanted to skydive, please come on out on July 12 so you can have fun and support this little girl and her family," urges Boyd. "You don't need to do anything special but come out and jump on July 12 and we'll handle the donation. Spectators are also welcome to come out, watch skydiving, and support the Barrett family."
Barrett's family is also accepting donations for Kristina's expenses at https://www.giveforward.com/fundraiser/kdw4/kristina-barrett-s-medical-fund.
"We have our moments when we need to run to the bathroom to cry a little in private, but we will be fine," says Barrett. "Kristina's favorite phrase is 'Our God is bigger.' The grace he gives us helps us carry on. We are not without hope. We know where she will be going and that we'll be with her again."
###
About Skydive Spaceland
Skydive Spaceland is a three-generation family-owned and -operated skydiving business located in Rosharon, Texas, just south of Houston, Texas. First opened for business in February 2000 by Steve Boyd, Sr., Skydive Spaceland has grown into a truly world-class skydiving facility open 7 days a week and capable of handling hundreds of skydivers jumping daily. More than 100,000 skydiving students have been instructed at Spaceland and the center facilitates about 70,000 skydives per year.
Skydive Spaceland has also played host to the world's largest skydiving competition, the  United Parachuting Association National Skydiving Championships (2009) , as well as several other large competitions including the U.S. National Collegiate Parachuting Championships and multiple U.S. National Canopy Piloting Championships. Several state records have also been set at Spaceland including the Texas State Record 150-person skydive in 2007, 168-person skydive in 2011, and multiple Women's Texas State Record skydives held jointly as fundraisers for Jump for the Rose, a Houston-area breast cancer clinic.