Rosharon, Texas (June 13)—Over Memorial Day weekend, Houstonians and Skydive Spaceland joined forces to raise funds to help victims of the enormous tornado that swept Oklahoma City recently. More than 250 people made their first jump at Skydive Spaceland over the weekend, which donated $10 for each person to the American Red Cross for a total of $2,510.
"We want to thank everyone who came out to skydive over the weekend and help out," said owner Steve Boyd. "We all have to pull together when disasters like this occur."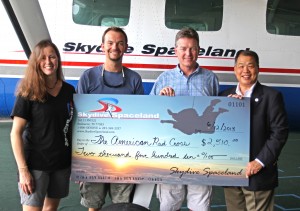 Skydive Spaceland owner Steve Boyd, general manager Jason Hyder, and marketing director Christy West presented Dave Dunn of the Red Cross with the check at Skydive Spaceland today.
"Thank you for your generous donation!" said Dunn at the presentation. "We cannot do our work without the ongoing support of companies like Skydive Spaceland and people like you. Disasters happen unexpectedly and many people are affected.  Your help will provide the needed humanitarian assistance for those in need so they may take the first steps back on their road to recovery."
###
Additional Materials:
Video: http://www.youtube.com/watch?v=XqScjqN9fdE
About Skydive Spaceland
Skydive Spaceland is a three-generation family-owned and -operated skydiving business located in Rosharon, Texas, just south of downtown Houston, Texas. First opened for business in February 2000 by Steve Boyd, Sr., Skydive Spaceland has grown into a truly world-class skydiving facility open 7 days a week and capable of handling hundreds of skydivers jumping daily. More than 100,000 skydiving students have been instructed at Spaceland and the center facilitates about 70,000 skydives per year.
Skydive Spaceland has also played host to the world's largest skydiving competition, the  United Parachuting Association National Skydiving Championships (2009) , as well as several other large competitions including the U.S. National Collegiate Parachuting Championships and multiple U.S. National Canopy Piloting Championships. Several state records have also been set at Spaceland including the Texas State Record 150-person skydive in 2007, 168-person skydive in 2011, and multiple Women's Texas State Record skydives held jointly as fundraisers for Jump for the Rose, a Houston-area breast cancer clinic.