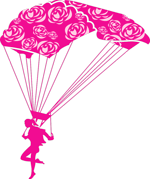 NEWS RELEASE—FOR IMMEDIATE RELEASE
Contact (Jump for the Rose): Marian Sparks, Marian@JumpfortheRose.org
Contact (Skydive Spaceland): Christy West, Marketing/Communications Director, Skydive Spaceland
281-369-3337; Christy@SkydiveSpaceland.com
In one of the most exciting fundraisers possible for fighting breast cancer, Jump for the Rose (a 501(c)3 organization) aims to set a new women's Texas State Skydiving Record while raising funds for a local breast cancer clinic on Sept. 29-30. The event will take place at Skydive Spaceland in Rosharon, just south of Houston.
"First and foremost we raise funds to fight breast cancer, and if we can set skydiving records along the way, that's an added bonus," says Jump for the Rose founder Marian Sparks. Jump for the Rose's fundraising efforts benefit The Rose, a Houston-area clinic providing breast cancer screening, diagnosis, treatment, support, and education for all women regardless of their ability to pay for services.
"After The Rose took care of me with no insurance," said Sparks, "I told the doctor (Dixie Mellilo, co-founder of The Rose) I was going to pay her back by raising money for her. That's what this is all about."
Skydive Spaceland will also assist the fundraising efforts by donating a portion of the proceeds of each tandem skydive made on Sept. 29. It's the perfect way for first-timers to experience the sport while benefiting this local charity.
"We want people to come out and enjoy this unique event and help raise funds for this important cause," said Skydive Spaceland owner Stephen Boyd.
In less than two years of existence, Jump for the Rose has already raised more than $25,000 for The Rose and has set two women's Texas State Records: A three-point (three-formation) 27-woman skydive in 2011 and a two-point 38-woman skydive in 2010. JFTR has also set two National Skydiving Records. At this year's event, skydivers will target another women's multiple-formation skydiving record as well as general category records for male skydivers. The two teams, both led by world-class jump organizers, will informally compete with each other to perform fun skydives in a supportive, coached environment.
Jumpers and spectators alike will have the opportunity to win raffled items donated by local and worldwide businesses, from hats, jewelry, and free haircuts to a free tandem skydive from Skydive Spaceland and $1500 off a complete skydiving system by Aerodyne Research.
Last but not least, the event will feature an evening screening of the award-winning film Pink Skies. The film follows British skydiver Ruth Green as she fights breast cancer while preparing for the 181-woman national record event (Jump for the Cause, which benefited the Susan G. Komen Foundation) in 2009. Producer/director/writer Gulcin Gilbert will screen the film following jumping on Sept. 29.
About Jump for the Rose
Jump for the Rose (JFTR) is a grassroots 501(c)3 corporation. As a men's and women's skydiving organization, JFTR is dedicated to raising funds for The Rose, a Houston-area breast cancer clinic. The clinic's mission is to reduce deaths from breast cancer by providing screening, diagnostics and access to treatment for all women regardless of their ability to pay.  Their services covered screening and successful breast cancer treatments for Jump for the Rose's founder, Marian Sparks.
In 2010, Jump for the Rose began hosting state record events for the largest women's skydiving formations completed in Texas. In its brief history, the group has hosted two successful Women's Texas State Records and earned a National Women's Sequential Skydiving record.
About Skydive Spaceland
Skydive Spaceland is a three-generation family-owned and -operated skydiving business located in Rosharon, Texas, just south of downtown Houston, Texas. First opened for business in February 2000 by Steve Boyd, Sr., Skydive Spaceland has grown into a truly world-class skydiving facility open 7 days a week and capable of handling hundreds of skydivers jumping daily. More than 100,000 skydiving students have been instructed at Spaceland and the center facilitates about 70,000 skydives per year.
Skydive Spaceland has also played host to the world's largest skydiving competition, the  United Parachuting Association National Skydiving Championships (2009) , as well as several other large competitions including the U.S. National Collegiate Parachuting Championships and multiple U.S. National Canopy Piloting Championships. Several state records have also been set at Spaceland including the Texas State Record 150-person skydive in 2007, 168-person skydive in 2011, and multiple Women's Texas State Record skydives held jointly as fundraisers for Jump for the Rose.