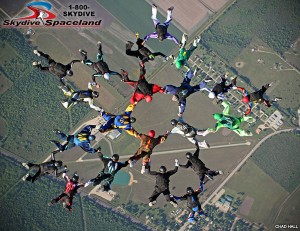 Rosharon, TX–Unsatisfied with the 14-person record they set in December 2013, Skydivers Over Sixty (years of age) returned to Skydive Spaceland in Rosharon, Texas, to set another state large-formation record on May 3. This was the group's third attempt at building the largest skydiving formation comprised of only skydivers aged 60 and older over Texas; weather kept everyone on the ground at their second attempt in March. 
Twenty-one skydivers aged 60-78 years old headed for the sky over Skydive Spaceland in two airplanes flying in tight formation–a Shorts Skyvan and a DeHavilland Super Twin Otter. The event organizer was Rick Poplinger and the jump captain was Henry Butler, who has been involved with several record attempts in other categories as well.
"[Butler] was happy as only two jumpers lost their dentures in freefall!" joked Poplinger.
It took the crew six jumps to set the record. They started with 27 jumpers who had a total of 100,000 jumps and over 1,000 years of parachuting history between them. Once the group was pared down to 21 jumpers, they quickly completed the modified Texas star formation and flew it well, holding onto their friends at 120 mph for nearly 25 seconds.
"It was great to have these guys out here showing they still have what it takes," said Skydive Spaceland owner/operator Steve Boyd. "We all hope we are still flying that strong when we hit 60-plus!"
By Rick Poplinger and Christy West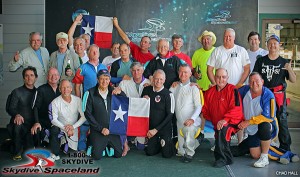 Record Participants: 
Rick Poplinger
Denis Wolf
Art Barchie
Rich Parrish
Bob Hunter
John Rich
Marshall Madden
Jim Culhane
Joe Taylor
Henry Butler
Weldon Herchek
Dennis Perrota
George Nisson
Bob Stroud
Gary Greer
Larry Portman
Charles Verhalen
Johnny Tubbs
Bill Lee
Steve Van Buren
Dewayne Bruette
Photographers: Mike Conley and Chad Hall
About Skydive Spaceland
Skydive Spaceland is a three-generation family-owned and -operated skydiving business located in Rosharon, Texas, just south of downtown Houston, Texas. First opened for business in February 2000 by Steve Boyd, Sr., Skydive Spaceland has grown into a truly world-class skydiving facility open 7 days a week and capable of handling hundreds of skydivers jumping daily. More than 100,000 skydiving students have been instructed at Spaceland and the center facilitates about 100,000 skydives per year.
Skydive Spaceland has also played host to the world's largest skydiving competition, the  United Parachuting Association National Skydiving Championships (2009), as well as several other large competitions including the U.S. National Collegiate Parachuting Championships and multiple U.S. National Canopy Piloting Championships. Several state, national, and world skydiving records have also been set at Spaceland including the Texas State Record 150-person skydive in 2007, 168-person skydive in 2011, 4-person formation skydiving (longest sequence) in 2009, canopy piloting speed and distance in 2009, and multiple Women's Texas State Record skydives held jointly as fundraisers for Jump for the Rose, a Houston-area breast cancer clinic.