Houston Man among the Skydivers Who Honored Young Daughter's Memory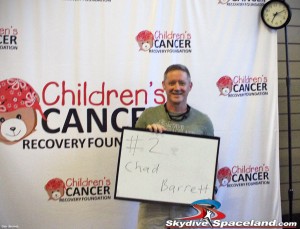 Rosharon, TX – October 2, 2014 – It was the thrill of a lifetime in more ways than one, as 286 skydivers took to the skies and made a jump that was both exhilarating and meaningful to so many. Children's Cancer Recovery Foundation (CCRF), a 501(c) (3) charitable organization, hosted an adventure fundraiser called Jump! Shout! on September 27th financial assistance to children with cancer and their families.
As part of National Childhood Cancer Awareness Month, participants raised a collective total of $48,255 for this important cause, and CCRF says it proudly broke the Guinness World Record for most tandem skydive jumps in one location in 24 hours at 286 jumps. CCRF will submit documentation to Guinness World Records for official review and confirmation. The previous record was set at 281 in June 2014 and was organized by Skydive UK Ltd (UK) at Dunkeswell Aerodrome in Devon, UK.
"Observing people from all walks of life, ages 18 to 81, take this extraordinary plunge from 14,000 feet was a sight to behold," said CCRF Events Manager Holly Price. "This was a world-class event that is truly helping children with cancer. Everyone involved, from jumpers, staff from Skydive Spaceland, sponsors and volunteers all rallied together to crush the current world record. It was an honor to be a part of an extraordinary event. By helping others, it was a positive experience for everyone involved and we are grateful to all who contributed to this worthwhile cause."
Chad Barrett, a Houston pastor at Kingwood Bible Church, honored his daughter's memory during the fundraiser by making the daring jump at sunrise. The Barrett family's eldest daughter, Kristina, was 12 years old when she died earlier this year as a result of a rare form of cancer. Chad said, "To see hundreds of people come out to support this great foundation truly warmed my heart! And, it was an honor to participate knowing that I had a small part in ultimately helping other families who are going through the rough journey we are enduring. My wife, Melissa, and I share the same passion that CCRF has, and it was a real privilege to jump for this cause. Stephen Boyd and his staff at Skydive Spaceland are to be commended on their character and integrity in supporting this event."
"It was great to be able to introduce so many people to skydiving while flying for this fantastic cause," said Skydive Spaceland owner and founder Steve Boyd. "We were thrilled to be able to help these children and their families who are going through such a difficult battle for life and health."
"On behalf of Children's Cancer Recovery Foundation, we are truly grateful for the outpouring of support and generosity demonstrated by the participants of this event," said CCRF Founder & CEO Greg Anderson. "All of the funds raised at Jump! Shout! will directly support children battling cancer and their families. Many families affected by this illness cannot afford monthly expenses such as electric and heating bills because their money goes towards the treatment of their child. I salute all of the skydivers for helping to make these families' lives a little more manageable."
While unable to attend, President George H.W. Bush served as Honorary Chairman of the event.
Donations to Jump! Shout! are still being accepted to assist children with cancer. Please visit childrenscancerrecovery.org/jump-shout/ to contribute or learn more.
About Children's Cancer Recovery Foundation (CCRF)
Headquartered in Harrisburg, PA with a division in The Woodlands, TX, the Children's Cancer Recovery Foundation supports children under 18 and their families facing the hardships of cancer. The foundation performs acts of care and kindness through the following programs: Bear-Able Gifts (largest distributor of gifts to children with cancer in the U.S.); Toxic-Free Kids (educates families on the dangers of environmental toxins); New Era Cancer Research Fund (funds research for less toxic, minimally-invasive pediatric-cancer treatments); International Aid (provides medications and supplies to clinics in developing and impoverished countries); Helping Hands Fund (provides emergency financial assistance to families); and summer camp programs in PA and TX. With a national pediatric-hospital partner network of 215+ locations, the foundation directly helps more than 15,000 children affected by cancer and their families every year. Please visit www.ChildrensCancerRecovery.org.