Skydive Spaceland Houston is proud to announce the launch of our Freefly Organizing Program! Our mentor program for newly licensed jumpers who have 100 jumps or under has been growing with great success, and we are expanding that program to safely transition jumpers into freeflying with some help from our newest team member, Tex!
Jesse "Tex" Leos is a freefly coach and tunnel instructor based out of Houston, TX. Tex holds state, national and world records in freeflying and has 1,000+ hours flying and coaching in wind tunnels. He will be a member of Team USA 2-way Dynamic Flying at the 2017 World Championships at Skyventure Montreal, Oct. 18-23. His passion is bodyflight coaching and flying fast! Tex loves jumping with students of all skill levels and being involved in freeflying's constant evolution.
First on Tex's agenda is to get a base built for the program by establishing:
 A schedule announcing which freefly load organizer(s) will be mentoring on which day and if they will be focusing on a specific discipline or skill
 A basic curriculum for the freefly mentors and their students in regards to thorough ground briefings, group size, essential skills to focus on and general guidelines for proper freefly progression.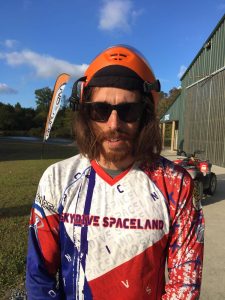 "Our freefly LO's focus will be to get involved with new freeflyers who are beginning to learn basic freefly skills and bridging the gap for those getting ready to join small groups. We want to make it obvious to those newer freeflyers that the designated FF LO that day is there for them. Ask one of our experienced freefly LOs, "Where should I start?"… We want the program to demonstrably result in more homegrown, safe, competent free flyers." -Tex Leos
The Freefly Organizing program began on Saturday, September 23, 2017 and it will run every weekend. If you are interested in weekday freefly coaching/mentoring, one on one coaching and small group work is available upon request by emailing Tex at Tex@Skydivespaceland.com.
See you guys soon! Let's Shred!