October 14, 2013
Contact: Kirsten Hardmant, Jump for the Rose Event Coordinator, Kirsten@JumpForTheRose.org
(Rosharon, Texas)—Four skilled skydiving women set a new head-up state skydiving record at Skydive Spaceland last Saturday, Oct. 12, during the Jump for the Rose PinkFest Boogie. The annual charity event has so far this year raised more than $10,000 for The Rose, Houston-area breast cancer clinics that provide screening and treatment for women who can't afford services along with those who can.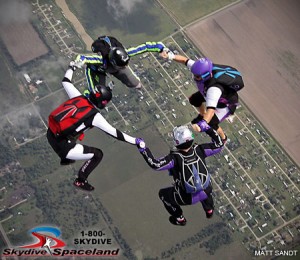 Nicole Black, Merriah Eakins, Alexandra Neale, and Katrina Shows were the ladies who set the new record. "It's so awesome for someone with 222 jumps to be asked to jump with amazing jumpers like Merriah and Kat and achieve something that two years ago seemed so far out of reach," said Neale.
"We just wanted to try something new and have fun while supporting the cause," said Shows. "The first attempt was almost there, but we had some difficulty with fall-rate and transition speeds. Learning how each skydiver transitioned from the first attempt made the second attempt successful."
The record jump was just one of many fun, rewarding skydives made by participants in the Jump for the Rose fundraiser. The annual breast cancer awareness event at Skydive Spaceland just south of Houston draws skydivers from around the world to raise money for The Rose and have fun trying to set skydiving records. When they weren't setting records, participating skydivers enjoyed jump planning with top-quality skydiving organizers, wingsuit flights, children's teddy bear and Barbie doll jumps, and more.
Jump for the Rose's founder, Marian Sparks, describes her motivation for creating the charity organization after her successful cancer treatment at The Rose: "I wanted to give back to The Rose and the only way that I could think of was through skydiving. It only seems right to combine the two things that I am most blessed to have a part of my life: Skydiving and the medical team at The Rose. "
This year's event included participants from 18-75 years of age, hailing from eight states and two countries. In addition to the jumping, the event featured breast cancer prevention education, a popular raffle, a presentation of the skydiving/breast cancer documentary Pink Skies by producer Gulcin Gilbert, and a Q&A session with world-renowned aerial cinematographer and stunt man Norman Kent regarding his lifetime achievements. Eight cancer survivors attended, and the money raised brought Jump for the Rose's lifetime donations to The Rose clinics to more than $50,000 (and donations are still coming in).
###
About Jump for the Rose
Jump for the Rose (JFTR) is a grassroots 501(c)3 corporation. As a men's and women's skydiving organization, JFTR is dedicated to raising funds for The Rose, a Houston-area breast cancer clinic. The clinic's mission is to reduce deaths from breast cancer by providing screening, diagnostics and access to treatment for all women regardless of their ability to pay.  Their services covered screening and successful breast cancer treatments for Jump for the Rose's founder, Marian Sparks.
In 2010, Jump for the Rose began hosting state record events for the largest women's skydiving formations completed in Texas. In its brief history, the group has hosted three successful Women's Texas State Records and earned a National Women's Sequential Skydiving record. Their slogan: "Skydive—Have Fun—Give Back!"
About Skydive Spaceland
Skydive Spaceland is a three-generation family-owned and -operated skydiving business located in Rosharon, Texas, just south of downtown Houston, Texas. First opened for business in February 2000 by Steve Boyd, Sr., Skydive Spaceland has grown into a truly world-class skydiving facility open 7 days a week and capable of handling hundreds of skydivers jumping daily. More than 100,000 skydiving students have been instructed at Spaceland and the center facilitates about 100,000 skydives per year.
Skydive Spaceland has also played host to the world's largest skydiving competition, the  United Parachuting Association National Skydiving Championships (2009) , as well as several other large competitions including the U.S. National Collegiate Parachuting Championships and multiple U.S. National Canopy Piloting Championships. Several state, national, and world skydiving records have also been set at Spaceland including the Texas State Record 150-person skydive in 2007, 168-person skydive in 2011, 4-person formation skydiving (longest sequence) in 2009, canopy piloting speed and distance in 2009, and multiple Women's Texas State Record skydives held jointly as fundraisers for Jump for the Rose, a Houston-area breast cancer clinic.