July 24-25, 2021
preNationals is a Nationals-style formation skydiving (FS) competition that gives formation skydiving teams a chance to tune up and test it out before the Freefall National Skydiving Championships in September. See how you stack up against Nationals-standard judges and the OmniSkore!HD scoring system! This is a fabulous opportunity to get familiar with competition logistics before Nationals, see how you're comparing to your competition, meet people and have a blast!
Stay tuned to the event's Facebook page for announcements!
Events
4-Way Formation Skydiving (Classes: Open, Intermediate, Beginner)
8-Way Formation Skydiving (Classes: Open, Intermediate)
2-Way Mixed Formation Skydiving (MFS) (Classes: Open, Advanced)
Schedule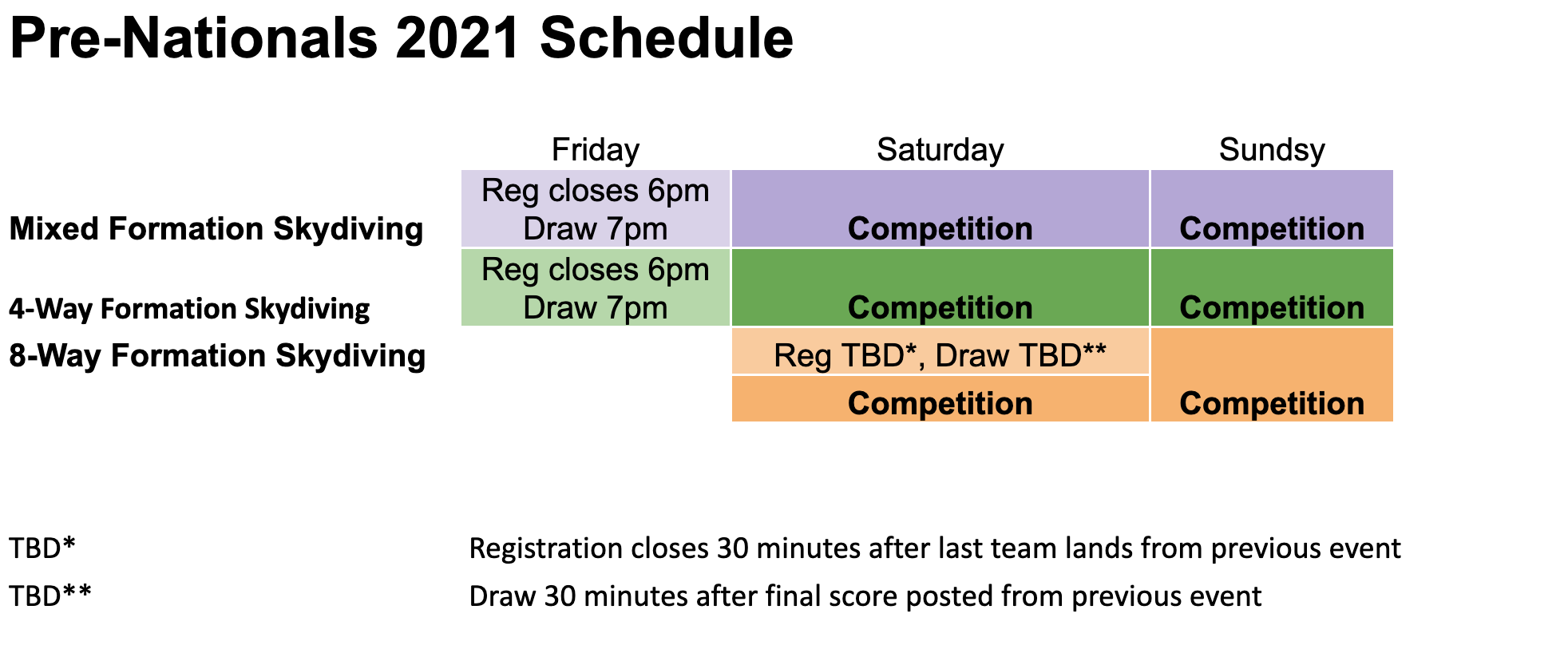 Competition load 1's 15-minute call will be at 7 am each day Saturday-Sunday
MFS and 4-way FS awards will be at sunset Saturday if the events are complete
8-way FS awards will be given as soon as possible after 8-way competition completes
No jumps or tunnel flying from the time your event has received the draw until your final round's score has been posted.
Staff
Chief Judge: Randy Connell
Additional Judges: TBD
Competition airplanes: Twin Otters, Super Caravan
Scoring system: Omniskore!HD
Meet Directors: Scott Latinis, Christy West
**** Each competitor on your team should pay per competitor, not per team).
Note: If you are paying for someone else (i.e., your videographer), please put his/her name in the Notes field when completing your payment checkout (i.e., "paying for Bugs Bunny").
What You Get
Scoring by a 3-judge panel of nationally rated formation skydiving judges using Omniskore
T-shirt (if registered by July 1)
Cost Breakdown
Registration per competitor: $50 for the first event, $25 for each additional event
Jump tickets: $28 each
Rounds:

4-Way FS: 8 (open, intermediate classes)

4-Way FS: 6 (beginner class)

8-Way FS: 8 (open, intermediate classes available)
2-Way MFS: 5 (open, advanced classes available)
Total (including jumps)
If you are only doing one event, the cost is as follows. Adding an event will add $25 registration and $28 per jump.
4-Way FS (open, intermediate): $274/person


4-Way FS (beginner): $218/person

8-Way FS: $274/person
2-Way MFS: $215/person
Refund Policy
Any jumps not made will be refunded at $28 per slot. The registration fee is nonrefundable after July 10.
Practice Jumps: $26 per slot (video slot also $26)
All members of the team must be registered and paid prior to Wednesday, July 10 to get this rate, which applies to team training jumps made beginning 0700 on Wednesday, July 17 until the briefing starts for the team's event. Spaceland teams with different rates get your team's agreed-upon rate for practice jumps.
Lodging
See our Lodging Page for more information regarding nearby hotels and accommodations.
Food
Avoid the hassle of bringing food to and from the DZ! The Landing Point Cafe is offering pre-ordered lunches! Your competitor packet will include a checklist menu so you can pre-pay for meals and have them ready to go when it's time to eat. Forms and payment should be turned into the cafe the day you receive your packet.
Questions?
Email Events Director Scott Latinis!
Check out how much fun we had with PreNationals in 2017!
Previous Pre-Nationals Scores